Danny Camacho
Founder/Owner/Fabricator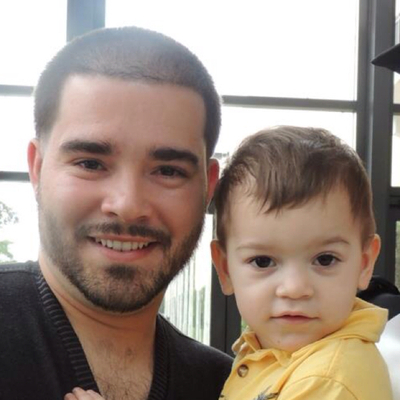 Danny Camacho's passion and curiosity for music started in middle school where he played trumpet while studying the art of musical reproduction. That passion for music lead him into home audio and car audio. In 1995, he started out like many enthusiasts, as a Do it Your Self-er (DIY ) . He hung out at the local car audio and performance shops watching and asking questions. Eagerly waiting for his chance to help out if he was allowed to prove himself. He would work on cars in his parents driveway, doing suspensions and performance enhancements as well as audio upgrades owned by himself and friends. He would tweak his parents home audio system and listen to different records trying different amps and speaker enclosures. He constantly read books and how-to's to learn new things. There wasn't anything he was afraid of trying or learning. In the same year, he began studying CAD, Architectural and Engineering Design in high school. This helped him to learn how to design on the computer in 2d and 3d while also learning how to use cnc's. He later got a job at a local Electrical Engineering firm as a CAD Operator all while still continuing his hobbies.
Danny's true move into car audio came in late 1998 when he moved to Tampa, Florida. He decided he wanted to pursue his passion for car audio and found a job at the Circuit City on Dale Mabry. Here he learned how to do alarms perfectly and perfected his wiring craft. This is also where Danny received his MECP Basic Certification. After a year at Circuit City, he got the itch to to learn custom fabrication, he already knew how to build and spec out enclosures but wanted to learn it all. He applied at BLVD Customs and got the job where he worked for 12 years. In 1999, his attention to detail had begun to set him apart from other installers as he flawlessly transformed exotic, luxury, and import vehicles with new custom installs including; fiberglass, OEM integration, custom boxes, amp racks, motorization, lighting, tuning and molded in video systems. There was nothing he was afraid of trying even if he had never done it before. This helped him quickly grow in the company. He perfected his fabrication skills to another level. He learned how to work with metal, composites, how to do upholstery, how to mig/tig weld, he even did motor swaps in cars on the side and performed performance modifications every now and then at the shop. His goal was to be the best technician and fabricator that could do anything and everything given to him. His work has been featured in many magazines and many of his projects have won many awards.
Danny's attention to detail and expertise with any car has helped him grow and maintain an excellent reputation in the Tampa Bay area. His drive and passion have led him to making his own vision and dream of owning his own shop, come true. After leaving BLVD and helping to grow another shop for two years, plans to create his own shop began to take shape. In January of 2013, he finally found a place he could call home and after months of dedication in making his dream a reality, he is ready to share that dream and passion for great cars, great sound and great attention to detail with you. He is continually learning new techniques and is studying for his MECP Advanced, MECP Master and ASE certifications. So, come and take a visit to Tampa's Premier Facility and meet its friendly and knowledgable staff. Here, they strive for the best possible customer experience in the industry.