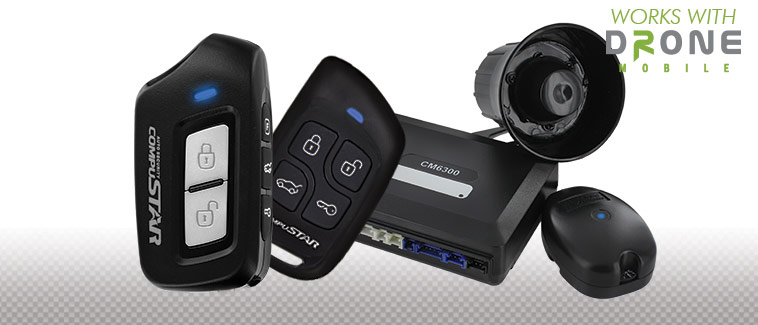 New in 2012, Here to Stay

The PRO 2-WAY 902 Security System gives you up to 3000 feet of range using Super Heterodyne PLUS communication, providing more reliability in areas with heavy signal interference.

Whenever you send a keyless entry command to your vehicle, you will receive instant confirmation on your remote via an LED light. Also whenever your Compustar Security system's door or shock sensors are triggered, your 902 remote will vibrate, notifying you that your alarm has been triggered.

Ask your Compustar retailer for the following parts in order to add the PRO 2-WAY 902 Security System onto your vehicle:
RF-P2W902-SP Remote Kit
FT-6300A-CONT Security System
Professional Installation
Security Features
2-Way LED Confirmation:

Get instant confirmation from your vehicle whenever you send a successful remote command.

Lock/Arm:

Press the lock button to arm your security system and lock your doors.

Unlock:

Press the unlock button to access your vehicle and unlock your doors.

Siren:

Hold down the lock button for 2.5 seconds to trigger your Compustar Siren when testing your system or locating your vehicle.

Shock Sensor:

Receive an instant audible or vibration alert on your remote when your Compustar Security System is triggered.

Passive:

Automatically Arm/Lock your vehicle 30-seconds after you Unlock it.

Drive Lock:

Prevents your vehicle from being driven as long as the Compustar Security System is armed.

Trunk:

Pop your trunk by holding the Trunk release button for 2.5 seconds.
Convenience Features
2nd Car:

Switch between vehicles easily using one remote by switching into 2nd Car Mode.

Valet Mode:

Turn off security features/settings whenever you submit your vehicle for servicing or valet.

Vibration:

Mute your remote's speakers and set your alerts to vibrate.

Aux Mode:

Customize your Compustar security system to control features such as roll-down windows or turn on radio.
For more information please email me at Info@AmplifiedAutosports.com